Business DSL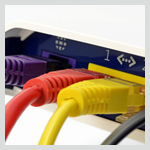 Business DSL from Nexlinx provides the affordable business Internet service you need for your business branch office or home office with the benefit of optimum performance at the best possible price.
Our DSL service provides download speeds of up to 4 Mbps over a robust network that optimizes performance and security, all at a down to earth price. If the budget is limited and performance a requirement, then Nexlinx DSL is an ideal broadband solution, especially for small and medium-sized businesses which download large files or use the Internet extensively.
Business Econo
512kbps
Unlimited
24 Hrs
Rs.4500

*

Business Balanced
1Mbps
Unlimited
24 Hrs
Rs.8500

*

Business Extreme
2Mbps
Unlimited
24 Hrs
Rs.15000

*
Home DSL
For your residence, Home DSL lets you overcome the limitations of standard dial-up or bad wireless coverage by providing high speed internet access over standard phone lines. Nexlinx Home DSL gives you connection speeds of 256 Kbps up to 1 Mbps. That's as much as 25 times faster than traditional 56k modems, and you can still use your phone while online!
Home 256
256kbps
Unlimited
24 Hrs
Rs.1,200

*

Home 512
512kbps
Unlimited
24 Hrs
Rs.1750

*

Home 1000
1Mbps
Unlimited
24 Hrs
Rs.2500

*
** Nexlinx does not provide any SLA or guaranteed services on DSL lines whether Residential or Business due to the fact that the last mile media is owned and maintained by PTCL.