DVB-S2 Satellite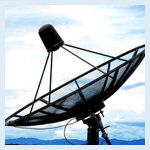 Whether you need to connect to the world in the middle of an ocean or even in the middle of a desert, Nexlinx DVB solutions can provide high quality satellite access to anywhere in Pakistan.
DVB S2/ RCS is an acronym for Digital Video Broadcast Series 2 Return Channel Service. However, the protocol has a wide array of applications which include Video broadcasting and Data/Internet transport. Simply speaking, it means a broadband satellite solution offering "always-on" Data/Internet access.
Not too long ago, satellite installation at a remote site used to cost tens of thousands of dollars to install and the related services were extremely expensive and therefore, only affordable to a few. With the DVB S2 technology, you will now be able to connect the remotest of sites in an economical manner with the same reliability of connections available in the metro areas. This new technology is especially useful for users where DSL or other broadband connections are either unreliable or unavailable, making DVB Satellite an obvious choice for such requirements.
NEXLINX is proud to be the leader in DVB-S2/RCS services in Pakistan. With the installation of our latest DVB-S2 hub in Lahore and a secondary hub in Karachi, we would be the only geographically dispersed hub service provider in Pakistan with the ability to switchover hubs in a matter of minutes. We are now able to offer the most advanced, efficient, and reliable satellite connectivity for your business at a very economical price, all across Pakistan.
Please contact us to discuss your requirements with our team today, and let us show you how we can make this new technology work for you.