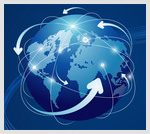 As our customers businesses become more international, the need for timely communications with their overseas operations has increased. Corporate communications networks that can communicate information efficiently and reliably have become essential as the backbone of management strategy. IPLCs serve as a vital component of the network plan as it provides a fully manageable, dependable and secure alternative to the Internet backbones.

IPLC (international private leased circuit) is a point-to-point private line used by organizations to communicate between offices that are geographically dispersed throughout the world. An IPLC can be used for Internet access, business data exchange, video conferencing or any other use which requires the exchange of data between geographically dispersed locations.

Ordering an IPLC is not a simple process and requires knowledge of the circuit providers in both countries and sometimes the process is exhausting for someone who does not have the knowledge of how to order and oversee the provisioning of such circuits. To help simplify IPLC ordering and billing, Nexlinx acts as your partner to provide a one stop solution provider and can deliver the IPLC services though our partners in a quick and efficient manner and without the headaches of traditional IPLC provisioning. In the past, an organization had to contact each carrier in each country to order the two circuits, which included two separate invoices. Nexlinx as a IPLC service provider, consolidates the billing for both circuits into a single invoice and allows the organization to coordinate with a single entity rather than multiple operators.