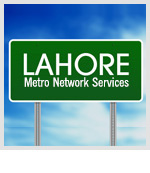 LMNS is an acronym for Lahore Metro Network Services; which are provided over our captive Fiber optic network in Lahore city. Over the last few years , we have deployed over 700 Km of fiber cable and our network reach continues to expand on a daily basis. We expect to reach our over 1000 Km in 2013 , making us the largest fiber network in Lahore region.

Through our fiber optic network , we are able to deliver high quality and reliable data connectivity in virtually all commercial areas of Lahore and in the future shall be extending the services to residential areas as well.

LMNS can be utilized in Layer 2 , Layer 3 flavors and can be even be used to transport Internet access to your office or building. LMNS services are backed by industry leading SLA , Committed Information Rates as well as Priority 24 x 7 support and can be backed up with our Wireless networks for an added layer of resiliency and ultimate access solution.