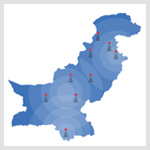 In today's communication dependent business environment, secure and reliable information is pivotal to one's success and sometimes the network requirements simply cannot be met by delivering services through the Internet cloud.
Nexlinx DPLC (Domestic Private Leased Circuit) services provide the right alternative by delivering point to point data transmission without utilizing the public networks in a secure and reliable manner. Simply speaking, DPLC is a circuit between two locations located within the geographic boundaries of Pakistan connected together via a private network and not the Internet. Nexlinx can securely connect your multiple city offices together by extending your LAN (Local Area Network) to multiple cities, town and even villages anywhere in Pakistan though its DPLC offering.

Nexlinx is a strong believer in Synergic opportunities and works with its key partners in areas where it does not own its network infrastructure to provide a one-window solution for all your domestic private network needs. Our coverage are extends to nearly all main cities while Satellite services can be provisioned anywhere; even in the remotest of areas.
Whether you need to connect to the company's secure network or backhaul a video feed from your far away industrial plant; Nexlinx DPLC services will surely deliver high quality interconnect between your desired locations.



Map