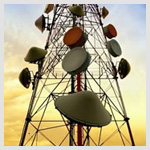 When your mission critical needs are not satisfied via DSL or Wimax, opt for Nexlinx dedicated Wireless to get a hassle free, high quality connectivity to your office or remote locations.
When you need mission critical access to the Internet, Broadband wireless is a key alternative to traditional wire-line access. Unlike traditional shared wireless services like Wimax or EVDO offered by our competitors , our service offering includes optimized throughput capable of delivering the committed bandwidth rates without compromising on the quality of the services.

Our Wireless platform is capable of handling speeds from basic 1 Mbps all the way to 1000 Mbps ( 1 Gigabit ). Our service portfolio includes point to multipoint as well as point to point services , delivered to your doorstep without any hassle and complete ease of mind.

Whether you need to provide a fast and dependable access for your office or your entire building, our wireless access solutions will let you enjoy the high speed broadband access with the peace of mind at an economical price.