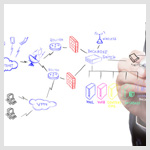 While DPLC and IPLC services are ideal where secure and reliable communications and required, these do come at a very high cost and not affordable by most organizations. Nexlinx VPLC ( Virtual Private Line Circuit ) services act as a low cost alternative to these expensive dedicated circuits by adding a separate security layer on to the public networks and deliver a solution which not only meets the security requirements but also fits the tight budgets.
Nexlinx offers VPLC services in many flavors, including local/domestic as well as International in either Bridged (Layer 2) or Routed (Layer 3) formats. Our network has the capability to support EoIP ( Ethernet over IP) , MPLS ( Multiprotocol Label Switching ) as well as basic PPTP ( Point to Point Tunneling Protocol) and L2TP ( Layer2 Tunneling Protocol). Our familiarity with corporate network structures and a exposure to a wide array of equipment vendors ( Juniper , Cisco , Foundry , Bluecoat , Fortinet , Netscreen) has allowed us to be a preferred VPLS integration partner for many companies in Pakistan.

Please feel free to discuss your specific requirements with our Pre-sales technical team to determine the best suited VPLC solution for your business.